NON-DESTRUCTIVE NUCLEAR MATERIALS QUANTIFICATION WITH THE HEAT-CHECK LINE

Setsafe's heat-check line applies calorimetry technology to the characterization of nuclear waste and materials.
It is the most reliable solution on the market to characterize pure beta emitters, like tritium, strontium-90, americium or curium.
It is a non-destructive method, that does not require sampling. It can be applied directly on containers (or drums).
Measurement results are not affected by the material's matrix, container, or conditioning.
Calorimetry can be used alone for a global quantification.
It can also be combined with gamma spectrometry, to indicate the mass of each isotope in the container.
Our HEAT-CHECK solutions comply with international standards like ASTM C1458 about non-destructive assay of plutonium, tritium and americium-241.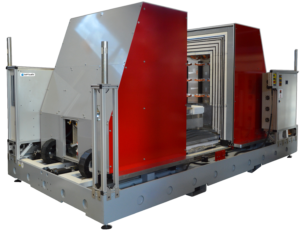 ENSURE THE MOST ACCURATE QUANTIFICATION OF DIFFERENT CONTAINER SIZES
–
YOUR BENEFITS
SOLUTION ADAPTED TO YOUR CONTAINERS' VOLUME

From 3 to 380 liters, or more on request

QUANTITATIVE AND NON-DESTRUCTIVE MEASUREMENTS

With unrivaled accuracy for beta emitters

RESULTS INDEPENDENT OF MATRIX & CONDITIONING EFFECTS

Ideal addition to gamma spectrometry

SIMPLE AND SAFE USE

With smart software and automation options
THERE IS A HEAT-CHECK SOLUTION FOR ALL YOUR CONTAINER SIZES AND SPECIFIC MEASUREMENTS

---