For non-intrusive gas flow measurements
U-FLOW applies the thermal flowmetry method.
It exploits the temperature profile variations in a bypass when the gas flow rate changes in the main line.
Pressure losses are insignificant by design.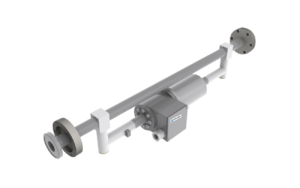 Applications
Our solutions operate at the low pressures required by uranium enrichment processes. Their 316L stainless steel body is designed to resist to highly corrosive conditions generated by the presence of UF6 in these processes.
Why is it Unique?
RELIABLE GAS FLOW MEASUREMENTS

even at pressures below 1 mbar

ON-LINE AND NON INTRUSIVE MEASUREMENTS

without moving parts and without significant pressure loss

LONG LIFETIME

thanks to its stainless steel design

VERSATILE

gas flow rate ranges from a few g/h to several kg/h
Documentation
Access the most relevant documents about our solutions and their use.
Request a quote for U-FLOW