G-CHECK
Measurements for the detection, quantification and composition of nuclear material and waste.

Your custom-designed solution integrating Gamma Spectrometry
Our G-CHECK solutions enable the non-destructive characterization of containers and surfaces of any dimensions.
They apply gamma spectrometry in integrated solutions, based on commercially available detectors, electronics and collimators, selected for their suitability to your measurement context.
The measurement stations rely on mechanical systems that we design and manufacture for your needs, with appropriate software and level of automation.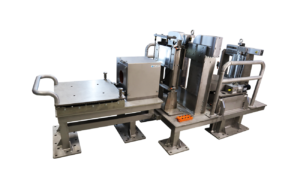 Applications
G-CHECK solutions are for instance deployed for materials management and radiological inventories, to measure the presence of specific isotopes inside a container, or to determine the mass of radioactive materials and their isotopic distribution. They are favorably supplemented by HEAT-CHECK and n-CHECK to compensate for gamma ray adsorption effects or when high intensity gamma emitters are present. On mobile mechanical systems, they can be applied to the inspection of large surfaces and the detection of hot spots.
Why is it Unique?
TURNKEY CHARACTERIZATION STATION

with the level of sophistication to suit your needs

NON-DESTRUCTIVE MEASUREMENTS

the most simple, versatile and accessible

IDENTIFICATION AND QUANTIFICATION

of radioelements

SOFTWARE AND AUTOMATION OPTIONS

for simple and safe use
Documentation
Access the most relevant documents about our solutions and their use.
Request a quote for G-CHECK