HEAT-CHECK MV
Accurate quantification of material or waste in containers, and thermal management data.

For the most accurate quantification of medium size containers
HEAT-CHECK MV offers non-destructive characterization of sizeable containers.
It is based on calorimetry, a non-destructive method that exploits the heat released during the decay of radioactive materials.
It can be integrated on request into automated solutions, with container-handling, or even in full measurement lines.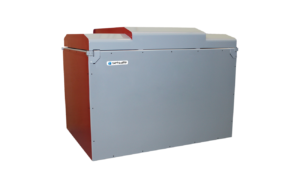 Applications
HEAT-CHECK MV applies to the characterization of containers for inventory and to the management of material and waste, including legacy waste. It can detect any type of radionuclides, but it is especially used to quantify alpha emitters and pure beta emitters. Its heat flow measurements can also be used for thermal management of a containers storage or disposal site.
Why is it Unique?
MEASUREMENT OF MEDIUM VOLUME WASTE OR CONTAINERS​

Up to 20 to 60 liters​

QUANTITATIVE AND NON-DESTRUCTIVE MEASUREMENT

With the highest accuracy for isotopes like plutonium or tritium

​RESULTS INDEPENDENT OF MATRIX AND CONDITIONING EFFECTS​

Ideal addition to gamma spectrometry

​SOFTWARE AND AUTOMATION OPTIONS​

For a simple and safe use
Documentation
Access the most relevant documents about our solutions and their use.
Request a quote for Heat-Check MV