Like the other calorimeters of its range, HEAT-CHECK FAST quantifies radioactive materials using the heat they release during their decay.
But it differentiates from the others thanks to its specific sensor technology, called power compensation.
It can produce results faster, without predictive calculation or quality losses.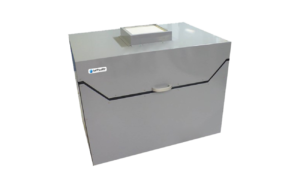 Applications
HEAT-CHECK FAST covers the need for a highly reliable characterization of nuclear materials, while maintaining a high productivity. It suits any facility that requires testing whole containers with a high throughput, typically for inventories or accounting of radioactive materials.
Why is it Unique?
INTRINSICALLY FASTER

Up to 30% time saved for equivalent container volumes, even without predictive calculation

QUANTITATIVE AND NON-DESTRUCTIVE MEASUREMENT

With the highest accuracy for isotopes like plutonium or tritium

RESULTS INDEPENDENT OF MATRIX AND CONDITIONING EFFECTS

Ideal addition to gamma spectrometry

SOFTWARE AND AUTOMATION OPTIONS

For a simple and safe use
Documentation
Access the most relevant documents about our solutions and their use.
Request a quote for Heat-Check Fast